If you're still not sure whether Improvise for Real is for you, then you probably still have some unanswered questions. Here are some of the most important questions to consider when choosing an improvisation method:
Does it offer something special?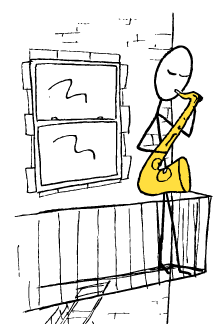 Will it give you a genuinely new perspective or is it just another rehash of scales, arpeggios and music theory terms like you find in a hundred other books? To earn its place in your collection, I think a book or method should offer you something unique and special that you can't get anywhere else.
Improvise for Real offers a surprising vision of modern harmony that brings together the entire world of chords and harmony onto a single musical map that you can visualize and play anywhere on your instrument. For many people, Improvise for Real is the key that enabled them to finally understand harmony and to really enjoy improvising. I believe that this understanding alone will be worth many times the price of the e-book to you.
And this is just one component of the method. You also get the complete framework of IFR creative exercises that will give you a true mastery over the sounds and concepts that you are studying. And you will learn to make the philosophical journey toward a new way of thinking about music that enables you to truly discover your own creativity.
Is the method fun to practice?
Playing music is supposed to be fun! Your practice time should be YOUR time to connect with your own creativity and your love of music. You should be free to explore concepts, express yourself creatively and really jam! One of the things that makes Improvise for Real so successful is that it's fun and highly addictive. Hear what students say about it on our testimonials page.
Will I be able to understand it?
Improvise for Real is designed for everyone, even complete beginners. You don't need to be able to read sheet music or know anything at all about music theory to begin. The method starts with very simple creative exercises that you can begin right away. These exercises teach you the basic building blocks of our musical system. As you progress, the method leads you on a very natural evolution through the entire world of modern harmony. But you'll be jamming, enjoying yourself and creating your own music right from the very first day.
Does it produce results?
The Improvise for Real method has been adopted by both students and teachers in more than 20 countries because it works. Students of Improvise for Real develop a deep personal mastery of harmony that enables them to understand the music they hear and to play the music they imagine. You will be able to improvise with complete confidence in concerts and jam sessions and truly express yourself creatively. You will learn to recognize both the chords and the melody to any song you hear. You will learn how to play any song you know in any key effortlessly and you will even learn to compose your own music. Read our student testimonials to see for yourself!
Is it a great value for the money?
If mastering harmony and improvisation is something that is important to you, I believe that Improvise for Real is the best investment you could ever possibly make. Our testimonials page demonstrates the rave reviews that students have given about the results they're getting with the method, and the complete method costs just $34. Think about that. This is the total price for a complete music learning system that you will be using for YEARS.
Compare that to cost of a single music lesson with a local instructor. How many lessons can you buy with $34? One? Where will you be after that one lesson?
I believe that you should have the best tools and materials available to reach your highest potential as a musician. We have priced the complete Improvise for Real method at just $34 to make it accessible to everyone. I hope you agree that this is an incredible value, and that you will take advantage of our offer to own the complete Improvise for Real method.
Can I get my money back if I'm not totally satisfied?
Absolutely. We invite you use and enjoy the entire method for a full 60 days before deciding whether to keep it. And if you aren't absolutely having the best time of your musical life, just send us an e-mail and we'll give you a full refund. Click on the link below to download the entire method right now and begin your FREE 60 day trial.